I had the chance to interview fellow Sapphire Blue Publishing author, Christle Gray, the author of Second Chances. Here's what she had to say: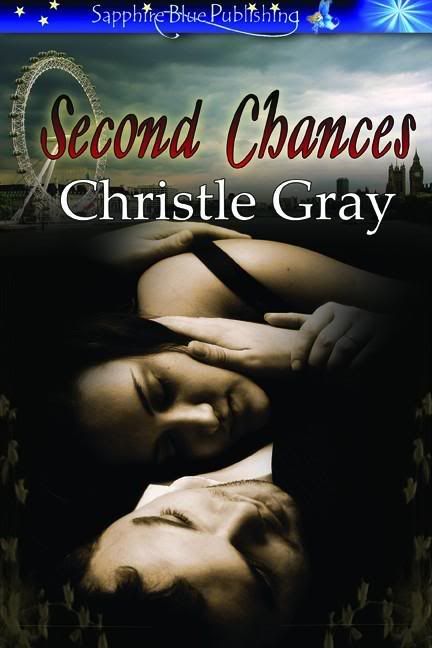 Rain: Tell us about Second Chances:
CG: Well, it's my very first completed manuscript, so it means a lot to me, and I was pleasantly shocked when Sapphire Blue picked it to be published. It deals a lot with loss, trust, and moving on. I'll go ahead and give you the cover blurb:
Gallery owner Kristin Shepherd is resigned to living a life on her own in London, England after losing her husband to cancer. That was before she met handsome Scottish actor David McDougal. David swears the relationship with his fiancé, Sophie Miller, is for public convenience only, but Kristin finds Sophie's unwillingness to release her hold on David quite a complication to the chemistry that exists between them. Within David's dark eyes, will Kristin find the courage to trust enough to love again? And, are there such things as Second Chances?
Rain: Do you write in any other genres?
CG: I read all genres, so I am working on stories in several other genres as well. I have a paranormal romance in the works, a paranormal chic lit, and a sci fi story. I also write quite a bit of poetry, a few which have been published over the years.
Rain: Why did your parents take a perfectly good name like Crystal and misspell it? (Oops, slip of the smart-ass there. I'm just playing!)
CG: LOL! I have gotten grief about my name my whole life! My mother had me when she was very young. She knew what she wanted my name to be, she just didn't know how she wanted to spell it. She tells me that she and the nurses wrote down every possible spelling they could think of, and picked CHRISTLE out of the group. I've learned to embrace it, for it makes me different and memorable. (Even if finding monogrammed or personalized items is impossible)
Rain: If Second Chances became a movie, who would you pick to play the characters?
CG: The hero is an easy pick. I modeled him after Scottish actor David Tennant, whom I adore! As for my heroine, Kristin, I think that maybe British actress Michelle Ryan would be a good pick. She has the dark hair and fair skin, and can do a passable American accent.
Rain: If Second Chances had a theme song, what would it be?
CG: Hmmmm… "Heal The Pain" by George Michael. Kristin has quite a bit of healing to do in order to move on with her life and open her heart again. (And, I happen to really like that song)
Rain: What are you working on now?
CG: I have three other works in progress, but I am mainly concentrating on a science fiction romance called Burn With Me right now.
Rain: What did you do when you found out Second Chances was going to be published?
CG: My husband and sister were at home with me, and I made them both read the e-mail on my laptop. Then I planted a big one on my husband and my sister jumped up and down and gave me a hug. I think we went out to dinner together to celebrate.
Rain: If you were stranded on a deserted island and could only take three things with you and one hot celebrity, what and who would you take?
CG: Heh, my celebrity would be David Tennant, of course! And I am SO NOT the deserted island type of girl. But, if I must, I would take an mp3 player (I like music ALOT), a razor (hairy legs…eewwwww), and a bag full of all my favorite books, so I could read when I'm not accosting poor David. (Did I REALLY just type that?)
Rain: If you were a porno star, what would your stage name be?
CG: You're killing me with some of these questions! Porno Star? Me? Ummm…how about…Chrissie Stacks?
Rain: Is there anything you'd like your readers to know?
CG: Just that I want to thank them wholeheartedly for their support, and that the authors and editors at Sapphire Blue Publishing are the bomb! Show some love!
Enjoy the interview? Leave a comment!