Today I thought I'd promote small presses. Many great authors can be found at small presses. I have no problem with Harlequin or Avon or any of the other mass market publishers out there... In fact, I fully intend on being published in mass market someday, in addition to small press.
Small press and e-books are a little different than the larger publishing houses. They tend to push the envelope more... tend to be more "out of the box". That's why I love them.
Unfortnately, many great authors tend to get overlooked by book snobs, readers who refuse to pick up anything not published by the "big guys".
Hmmm... Did you know Mark Twain originally self-published? Yep.
Keri Arthur, best-selling author of the Riley Jensen series, started with a small press? Yep.
I could go on, but my point is this: Don't be a book snob and miss out on great reads! Download an e-book or pick up a trade-sized book from a small press!
I present you with this challenge: Support e-pubbed and small press authors by checking out one of their books, then tell me what you think of it. Then tell your friends. Then post it in a bulletin or blog. Spread the word & show some support!
I'll start:
I read
A Leap Of Knowing
by Dani Harper.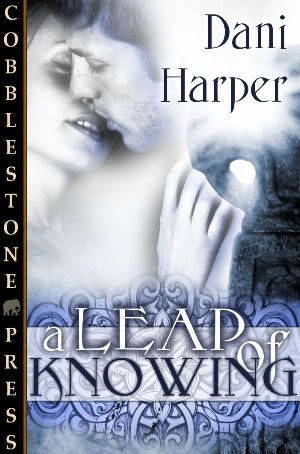 I enjoyed this book. Dani Harper has taken the myth, or legend, of the
gwyllgi
(a large, black dog that appears to herald death)and turned it into a wonderful paranormal romance.
Rhys, a warrior, is cursed by faeries with the task of spending eternity as the herald of death, living out his life as a large black dog.
When he saves the life of veterinarian, Morgan, and nobody comes to claim him, she takes him home as her pet. But surprise. Morgan's affection has lifted the curse and Rhys shifts back into his human form.
The faeries have relinquished their claim on Rhys, but only for as long as Morgan wants him.
Rhys must convince Morgan to believe in the unbelievable and accept him and his crazy explanation of where he came from or else he will have to go back to being the faeries' servant.
I was drawn to this book because I've heard stories of the large, black dog that appears before death and was interested in how the author would present this story as a romance. She did not disappoint.
So now it's your turn! Go to www.sapphirebluepublishing.com, www.imajinnbooks.com, www.cobblestonepress.com, www.thewildrosepress.com, www.samhainpublishing.com, or any other e-pubs/small presses out there and get a new book!