There's so much to love about my favorite game. Here's just some of the perks: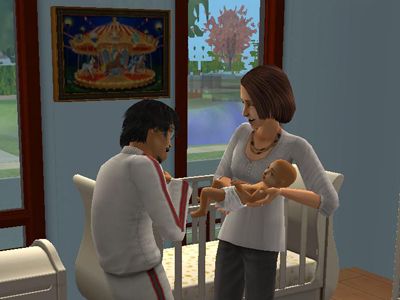 Babies! Babies are cute, and with Sim Babies, you don't have to smell the stench of dirty diapers!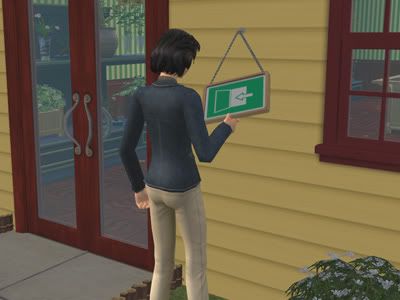 Sims can own their own businesses. Get the Open For Business expansion pack and your Sim can run a store, restaurant, car dealership... You name it!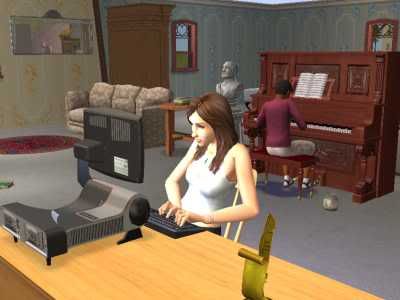 Your Sim could be an author! Tee-hee... Now why would I like that?
Pregnant men! Not like that "pregnant man" on Entertainment Tonight, who's really a woman with an operation that gave him a schlong. Real men! Yup, if your Sim man gets abducted by aliens, he could come back pregnant...
... and have an alien baby (or two, in the case of my guy in the pic).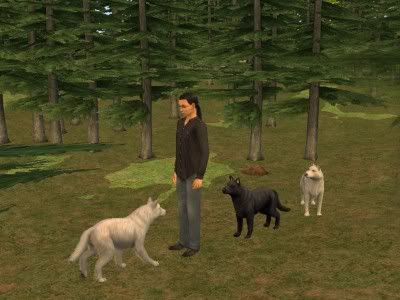 Wolves!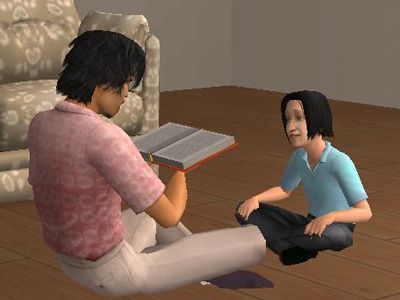 Aww... Family time!
Wook at the pwetty baby... aww!
Your Sim can be a ballerina!
Fire! If your Sims aren't careful with the stove or fireplace, they can totally catch the place on fire. They can even die in the fire.
You can build really cool houses.
Families. When playing The Sims 2, you can create families in the family maker thingy and then move them into a neighborhood. You can have those Sims marry other Sims and reproduce. Then you get a whole family tree going. It's pretty awesome.
Your Sims can turn into werewolves if bitten by the leader of the pack (werewolf with glowing eyes)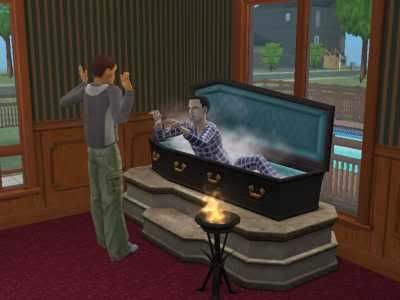 They can turn into vampires if bitten by another vampire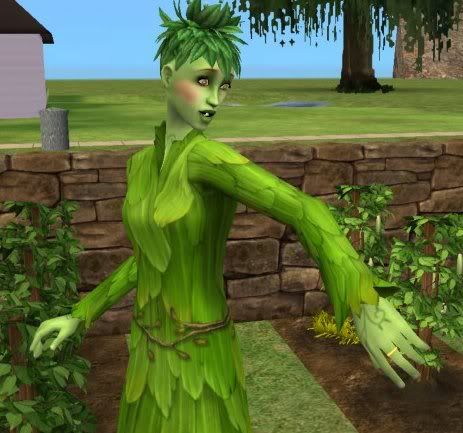 PlantSims! This is what happen to Sims who go crazy with the pesticide
Witches! I don't have the new Apartment expansion pack (it only came out on DVD and I don't have a DVD drive, dammit) but don't they look awesome?
There are so many awesome things about The Sims 2. The Grim Reaper who comes to collect the dearly departed, having (and getting to name) babies, puppies, and kittens, baking, going on vacations in a seperate location (Middle East, Tropical Island or Woods). There's a genie that grants wishes, a Bigfoot you can become friends with, robot people you can build... The list goes on and on. I love The Sims !!!