American Idol finally came to Louisville, KY. My home. There was a mixture of excitement and fear in the house as we watched. We were excited Louisville was getting noticed, but afraid there'd be some really big idiots on there making us look bad.
The very first girl was awful. I don't know why these people try out for the show and then try to badmouth it when they're told they're not good. "I don't want to do this stupid show anyway." Um, then why did you wait in that looooooong line to audition? They just make themselves look like asses.
Mark Mudd.
Poor guy. Newsflash: In Kentucky, we say "Be careful" when we leave out. We also say "Drive safe." Good thing he didn't say that. Paula would have accused him of screwing with her brakes.
Speaking of Mark Mudd, we now know what Baby Stewie would look like all grown up.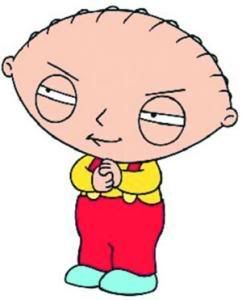 Oh, and Patrick:
He's actually a DJ. His audition was a joke. AND THEY ACTUALLY AIRED IT!!!
The nerdy guy who drank out of Paula's cup and the woman who couldn't pronounce anything correctly "Tray-shee-uh" "Lar-nax" (she was on the Tuesday show) just boggled my mind. Why do people think you can study the mechanics of singing and that's all there is to it? Singing is so much more than technical. The woman actually sounded like she'd be alright when she was waiting and they showed little clips of her singing here and there, but her audition didn't go well at all.
All in all, the Wednesday show was pretty boring. No one stuck out to me. Well, the guy who sang the Gavin what's-his-name... Degraw? McGraw? song was alright.
The girl at the end (homeless) was OK but I didn't like her attitude. There's confidance and then there's cockiness. Cocky people generally fall on their face.
So that's my opinions & thoughts on the auditions so far. In case you care, which you probably don't, but I blogged it anyway ( - :