If you know me at all you know I lurve David Cook and that he's the only singer whose concerts I go to (Don't like crowds and stuff). He came to Horseshoe Casino in Elizabeth on Friday night (11/20/2009) and since that's just about 20 or so minutes away, I had to go.
I almost didn't. I bought the tickets right as they came out BUT then my whole unemployment fiasco happened where I lost my job and kept getting runaround from unemployment office. So about the eleventh week of no job and no income I ran out of funds and had to put a lot of stuff on eBay. I was about to put my David Cook tickets on there but all of a sudden eBay started acting up and then my brother called to tell me "Don't do it!!!!! You could get your unemployment backpay tomorrow!!!!" So... I didn't do it and I am so glad because I got my backpay this week and could go to the concert without feeling guilty and IT WAS AWESOME!!!!!!
The setlist included:
Heroes
Mr.Sensitive
Souvenir
Lie
Breathe Tonight
Kiss On The Neck
I Did It For You
Make Believe
I Just Died In Your Arms Tonight
Declaration
Light On
Come Back To Me
David didn't hit a single bad note and it was so much fun. I took my daughter's camera because it's much smaller than mine but the zoom on it sucks. I was in the 12th row dead in the center and the seats were great. If I had taken my camera I would have been able to zoom all the way up into his face. LOL! Oh well. My pics aren't that great but here they go:
Some highlights of the show were:
Lie (I love the part where he sings away from the mic and was so glad he did it at a concert I got to go to):
Hearing the brand new song, Make Believe, live ( my vid sux but you can hear it good):
Hearing the great banter. I didn't get any on vid but hopefully some will emerge on Youtube.
Seeing David climb on top of a huge speaker and jump off during Declaration. I'll have to try a direct post of that later since Photobucket isn't letting me include it in this blog post using HTML code. ) - :
Hearing IJDIYAT live!!! I love his cover of that song!
Great show. Even though the seats were superclose so I kind of felt like a sardine and I had some freakishly tall people ahead of me that insisted on swerving around so I had to keep swerving to see, I had a great time.
However, my son wanted an autograph and actually sent me to the concert with an 8x10 sized picture of DC so... I did the total fangirl thing and went in search of the tourbus. That casino is freakishly huge and has multiple parking lots so my brother was all "You tell me where it is, we'll go but there's dozens of parking lots and...." blah blah blah. So we went to the casino where he won $150 off a $6 bet. Jerk. I lost $10, which makes him a double jerk (Even though in all honesty, $5 of that came from him).
Cashing in that ticket: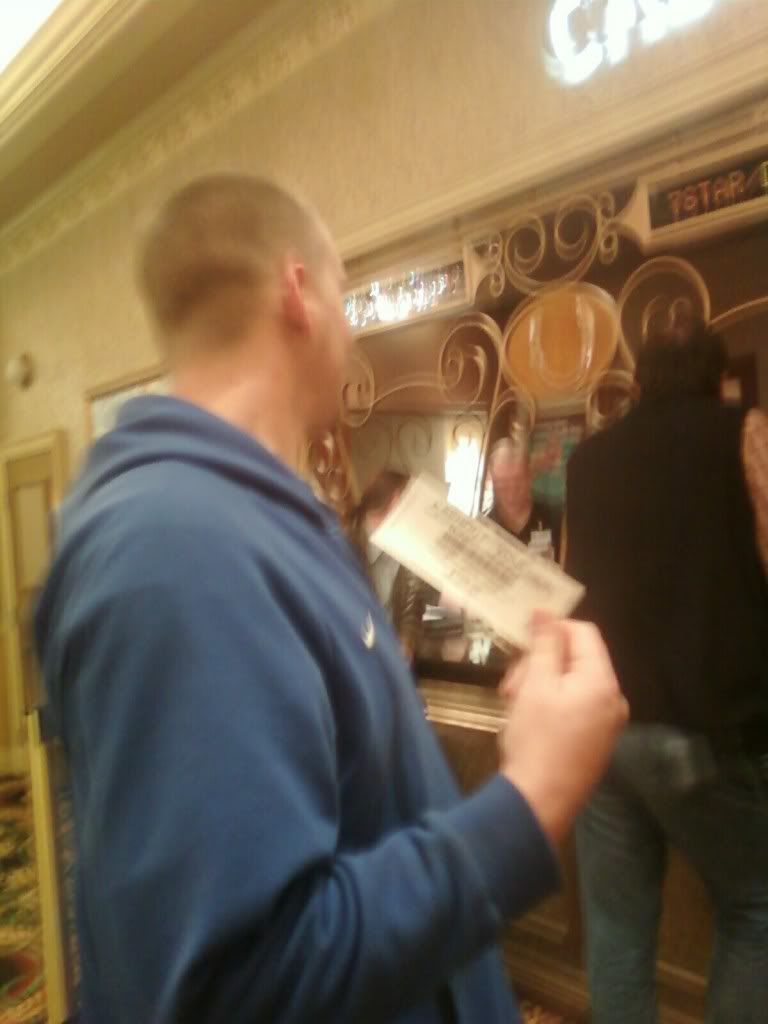 Then we ran across someone he knew who could not only tell me what DC had for dinner last night but where the tour busses come in at (which kinda took away my bro's jerk status) so we went and....
waited out in that cold parking garage with a bunch of other women for like an hour just to see him wave and thank us for coming as he walked to the tour bus, got on, and left. ) - :
DC had to leave so he could get to Vegas. My boy did not get his autograph.
I felt really bad about that but then I remembered that I just got him tickets to WWE Smackdown 4th row ringside. I think that more than makes up for not getting DC's autograph, don't you? (Of course he won't know this until it happens in January cuz I want it to be a surprise but still... I know, and it makes me feel better.)
And I had gotten windburn on my face from the hellacious field trip I went on with my daughter earlier in the day so it was a good thing I didn't have to mortify myself by being seen that jacked up by David F-ing Cook in order to get the autograph... I can honestly tell my boy I tried.
Maybe next time DC comes to Louisville or across the bridge he'll come somewhere I can take my son. His first concert a DC concert... How awesome would that be?
Either way, I'll be going. The man never disappoints.