Y'all know I love to stuff my face so I thought we'd exchange recipes today. I'm really not much of a cook. People always look surprised when I say that because I bake the best cake in the world (and that's just the truth. If it sounds conceited,
whateva
. People who hate cake ask for seconds and thirds of mine. I'd call that scientific proof of my awesomeness, but anyways....) but I'm just not that great at cooking food-food.
However, I've been making these pork chops, which I call " 'Mater Chops" 'cause I'm all
hickified
like that for a while now and
they're
pretty darn good. Give 'em a try: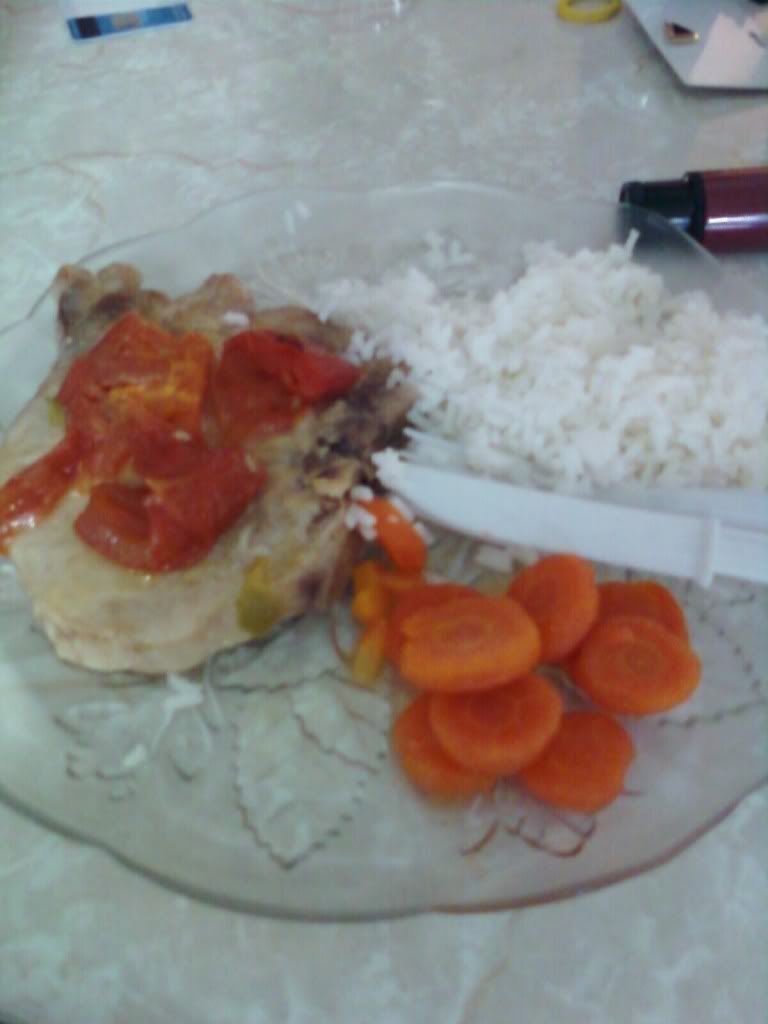 'Mater Chops
6-8 Pork Chops (bone-in or boneless, whatever you want)
2 TBS vegetable oil
1 can cream of (onion, mushroom, chicken, whatever you like) soup
2 TBS Worcestershire sauce
1 TSP garlic powder
1 TSP salt
2 TBS flour
1/2 cup water
2 medium tomatoes, cut into wedges
1/2 green pepper. diced (optional)
You can also feel free to season your chops up with some meat tenderizer, chicken seasoning, oregano, basil, and pepper.
In skillet, brown the chops in the oil and transfer to 13x9 inch baking dish.
Combine flour, soup, sauce, powder, water & salt (and any other seasoning you like) in the same skillet which should still have a little oil in it. Stir it until it's gravy.
Pour gravy over chops in the dish, Add tomatoes and optional green pepper. Sprinkle with pepper, and any other spices (I use every one I've mentioned) you like.
Cover pan with aluminum foil and bake for 1 hour at 350 degrees.
****************************************************************************
Got a good recipe? Feel free to share. Also, don't forget to leave a comment with #
CRLwin
in it to enter to win a copy of Guardian Cowboy.