When it came time to "cast" the character of Juliana Van Alder, a beautiful, blond ballerina, it seemed only natural to imagine Amanda Schull, star of Center Stage, in the role.
Juliana is tired of her uppity family pushing her to forever be a prima ballerina. The bright lights of Broadway have lost their thrill. Tired of the men who come calling only to have a pretty ornament dangling from their arm--or her family's money--she escapes, following her gut which insists something big is waiting for her in the woods of North Carolina. Could it be the mystical wolf she sees in her dreams? The one who shares the same lonely eyes as the man she also dreams about?
Derek Kingston wasn't meant for taming. Tall, muscular, and
fine as hell
, this Morris Chestnut look-alike refuses to give in to the call of the moon.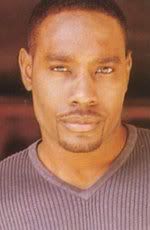 Derek watches the ballerina through her sliding glass door, aching to shift from wolf to man and do the things he's fantasized about with her. But she's human. Derek doesn't fool around with humans. He's all wolf, and likes his women rough and ready. He doesn't do soft touches and sweet words. He's as animalistic as his beast and this dainty little ballerina couldn't possibly survive a night with him despite whatever the moon has to say differently.
Or can she?
It's Day #2 of the Fangs, Claws, and Stetsons contest. Be sure to leave a comment using the hashtag #CRLwin to enter to win a prize. Don't forget to include the hashtag in your tweets!
EXTRA WAY TO ENTER:
Send me a friend request at Facebook using the hashtag #CRLwin in your invite! If you're already a Facebook friend, just write #CRLwin on my wall ( - ;